Leap Motion: Excitement, Disappointment, but Hope
The future is near, or at least that's what came to mind first seeing this product, the Leap Motion. Imagine interacting with digital assets on your computer by manipulating your hand gestures on the space in front of your computer. You don't even need a huge amount of space for the device to sit on your table. For about $90, you can have this on your setup.
I was excited to try something new, that's why I ordered this early October '12, when it cost only $75. Having this thing come in this summer was like Christmas. I immediately popped the thing in, downloaded the required software and started playing with it.
I was amazed at how precise it was. Apparently, it surpasses Microsoft's Kinect by 200 times the precision and can sense 1/100th of a millimeter. We get it, it's pretty damn sensitive. However, there was the issue of detecting fingers blocked by another finger due to the sensor's original position relative to your fingers. It won't detect the furthest finger due to this. Also, at a certain height above near the sensor, it doesn't "sense" your hands. This says there's more to be done to improve on this technology and they know it.
Airspace, Leap Motion's app store, contain a good selection varying in different functions to showcase its capabilities. However, I was really looking forward to the app that enabled me to interact with my desktop. Touchless (for Mac or Windows) does just the job. The experience here is by far the most useful when you're developing a product like Leap Motion. However, this was far from being "natural" as their selling point. Taking into account its sensitivity to my hands' motion, it was difficult to navigate and interact with my desktop. Pointing and clicking required a bit of work, which tripled the amount of time it would take if I were to use a track pad. Clicking required more precision, as it required me to move my finger towards the screen to cross the plane directly perpendicular to the sensor/table.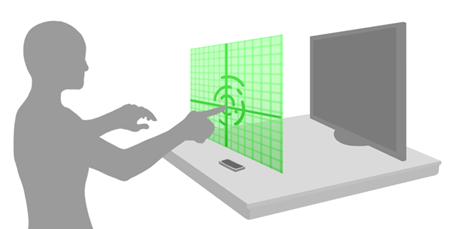 Leap Motion's vision is to have technology "figure out people and not the other way around". The Leap device allows natural interaction to digital assets similar to interaction with physical objects. In a sense, this technology isn't really THAT new, considering Xbox 360 has the Kinect. It's essentially the same idea. However, the idea is brought to a more personal space on your computer, which represents a precursor to augmented reality, which I'm really looking forward to. I always wanted my own Jarvis interface where I can scheme objects in 3D holographic form like in Iron Man series. I believe technology like Leap Motion is a stepping stone towards that type of technology in augmented reality, where digital space meets ours.
If you have $90 to blow and want some fun with new technology, go get one! Just don't expect to have any useful purpose for it.
---